Service and Sales Information During COVID
This important information was updated November 16, 2021 and is subject to change. Goldstein Subaru of Albany uses the latest New York State guidelines in all our departments for the safety our of customers and our team.
Vehicles Sales Process During COVID
Our showroom is OPEN with new SOCIAL DISTANCING PRECAUTIONS. You may make a "VIP" appointment to meet with a sales consultant, and to take a vehicle on a sanitized test drive.

Goldstein Subaru is following the latest New York State guidelines on how to have safe and sanitized interactions with our customers, for the safety of our customers and our employees. We take this responsibility seriously and ask that you do the same for the benefit of everyone.
The Coronavirus, COVID-19, has changed the way we live in the Capital Region and across the country. Currently, the Goldstein Auto Group family of dealerships in Albany and Latham NY, as well as endless dealerships across many states, must comply with new rules and regulations about how we provide car, truck and SUV sales and vehicle service. We would like you to know what this means for you in the Capital Region and Goldstein Subaru.
SALES - NOW OPEN, with "VIP" Sales and Test Drive Appointments
Our showroom is NOW OPEN to the general public with new SOCIAL DISTANCING PRECAUTIONS in place. We encourage you to make an appointment for your "VIP" Personal Sales experience - same day appointments ARE available! Please wear a mask while in our showroom.
With a "VIP" appointment, you may visit our showroom and discuss your vehicle needs. You may also take a vehicle for a sanitized test drive. Please note that no employee may ride with you during a test drive, so we'll work to answer all your questions before-hand.

Test drive vehicles are sanitized BEFORE and AFTER the drive. Be sure to follow any instructions we may provide.
If you bring a trade-in vehicle for inspection, please note that we do Sanitize your vehicle prior to our inspection for the safety of our employees. The vehicle is again sanitized following the inspection.
We want to make the purchase process safe. Customers and our team are expected to wear masks, and maintain safe social distancing based on the current New York State guidelines. Plexiglass barriers are on our desks to help prevent contamination. Hand sanitizer is available throughout the store. These are just a few steps of many we are taking in our stores.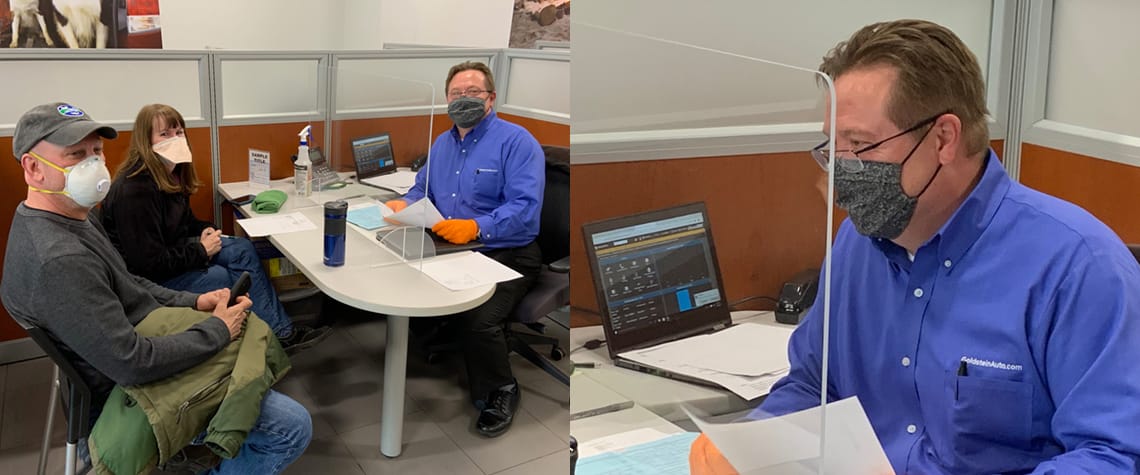 Customers and our teams are happily following the latest New York State guidelines so that we can safely provide our customers with the information and the vehicles they need.
 Shopping as a couple? We understand that you and your spouse or partner may want to make this decision together. Please let us know when you are scheduling your appointment that more than one person will be attending.

Yes, You Can Still Shop Remotely or Electronically!
If you are uncomfortable with the idea of shopping in-person during this time and wish to purchase a vehicle remotely, or electronically, we will be happy to assist you.
While shopping remotely may be a first for many of you, making a significant purchase from the comfort of your home, rest assured, our Goldstein Subaru team is well-experienced in remote sales.
You can start your purchase process online with your Finance Application, or submit a Contact Form. Have a trade? Tell us about it! We can work with trades during this time.
Is your current lease expiring? Yes, we can help you purchase your lease vehicle, or get into a new vehicle lease!
Delivery of your purchased vehicle is scheduled by appointment only.
Your final signatures and paperwork will be completed following all social distancing guidelines. Pick up of your vehicle is in a clean environment.
It's that easy!
YOUR QUESTIONS About Vehicle Sales Now in Albany NY
We understand that you may have questions about new in-person guidelines, or the remote purchase process and may need assistance. You can call us to schedule your appointment or ask questions at 888-370-3661, Monday - Saturday 8am - 6pm.
Please remember - our showroom is NOW OPEN with new SOCIAL DISTANCING PRECAUTIONS in place to comply with COVID SAFETY requirements in the Albany, Schenectady, Troy and surrounding areas.
STAY SAFE
The health and safety of our employees, those at home, our employees that are returning to our stores, and the dedicated Service Technicians in our Service Departments, is top of mind during this time. And that care and concern extends to all our customers who visit our store with an appointment, who visit us for essential vehicle services and for all our customers and friends who are working or staying home during this time. We take this responsibility seriously and ask that you do the same.
Stay safe. Wash your hands. Wear a mask.
And thank those essential workers, first responders and health care providers who carry on day after day with pride and incredible dedication. Thank you!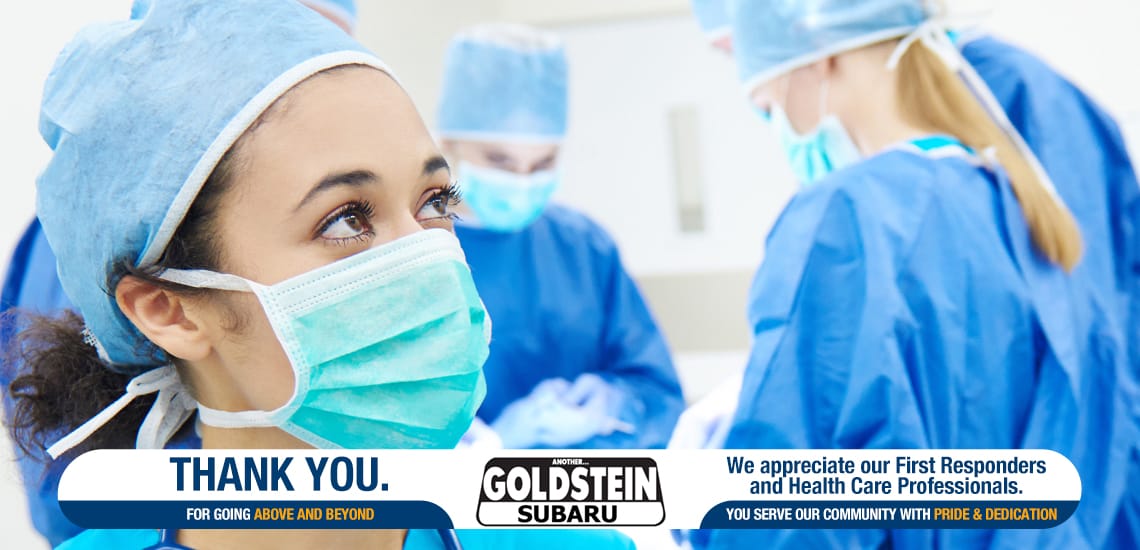 Your Safe Service Appointment with Goldstein Subaru
   
When you drive in for your service appointment, you will be greeted by a Goldstein Subaru Service Member who is wearing proper protective equipment.
   
Before service, for our safety, we sanitize the area of your vehicle where our techs will be working.
   
We use an EPA Certified, specially formulated sanitizing solution, applied with an air-powered applicator. The solution is designed to sanitize without harming the interior of your vehicle, or cause any discoloration.
   
After your service is complete, our team again sanitizes the areas of your vehicle where our technicians have been working.
Sanitized Service at NO ADDITIONAL CHARGE
Goldstein Subaru reminds you that proper and scheduled vehicle maintenance is important, and so is the safety of our team and our customers in the Albany area.

There is no additional cost for this important service.
For your scheduled maintenance or vehicle repairs, our service department is open to service your car, truck or SUV. Monday - Saturday, 8am - 6pm.
We're doing our small part to help keep the Capital Region safe at Goldstein Subaru!