Back in January of 2012 what started to be a Super Bowl collection campaign to benefit The Mohawk Hudson Humane Society, has snowballed into year round program for the Goldstein Auto Group ! We have set up big truck depositories in each of our four dealerships to help collect bottles and cans from patrons, staff and families, wanting to help the Mohawk Hudson Humane Society in Menands, New York. The Bottles and cans turn into dollars for the organization to help support the mission of the organization, including sheltering, adoption, education, advocacy and the prevention of cruelty to animals.
Goldstein has partnered with local communities, school groups, and business owners to bring all these bottles and cans directly to the Mohawk Hudson Humane Society. Volunteers from all over the capital district come directly to the shelter and sort all these bottles and cans based upon the originating distributor, which in turn generates 8 cents per can/bottle instead of the 5-cent redemption fee paid at stores. In 2011 the Mohawk Hudson Humane Society converted thousands of bottles and cans into over $74,000 in monies for the shelter. In 2012, the program generated over $96,500. In 2013 we continued to grow with a conversion of $109,252 and in 2014 we came out with an even better $126,843! Our goal is to collect every bottle and can we can and spread the word!!!  
Last year the Goldstein Auto Group implemented the program "No can left behind" we found that there are many senior citizens and people who cannot leave their home to make their bottle and can donations and they have bags and bags of them that they have been saving. We now will go to a home or business for large donations and collect the bottles and cans and get them to the Mohawk Hudson Humane Society so every bottle and can counts! This program has been a huge success! We have added hotels, schools, and many local businesses that want to make a difference for these animals!
100% of all Proceeds go to the Humane Society!
For LARGE donations, call us -free pick up!
Contact Stefanie Goldstein at 869-1250
Please drop off YOUR bottles and cans to any of the three locations, during business hours!
Goldstein Subaru 1754 Central Ave, Albany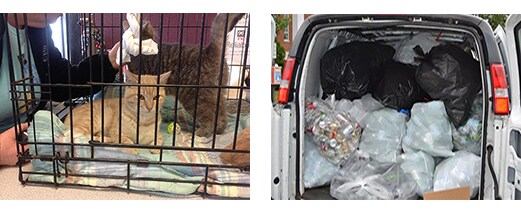 ---
American Veterans Care Organization
"Serving those Who Served Our Country"
The American Veterans Care Organization is a registered charity dedicated to providing for the physical, psychological and material needs of our veterans, servicemen and their families.
In addition to the numerous programs currently in effect, AVCO also proudly supports and funds other qualifying Veterans groups such as Operation Adopt a Soldier and Books for Troops as well as funding and providing essentials to veterans shelters and those in transition into and out of these shelters.
AVCO does not receive any government funding and relies solely on the contributions of individuals and Corporate sponsors to achieve their goals.
For more information Please contact :
Doug Schreiber
7 Newton Road, Latham, New York 12110
Phone: 518-487-1694
Email: dschrieber@amvetcare.org