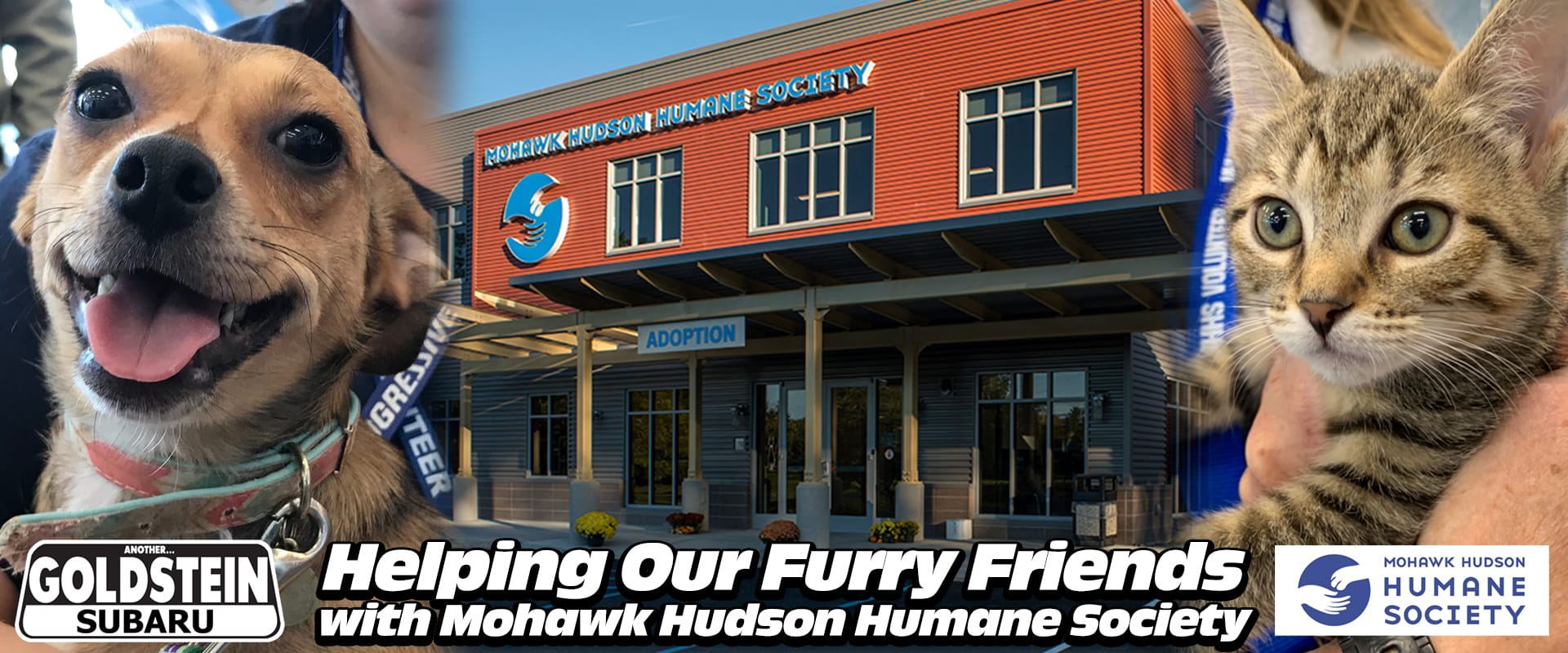 Goldstein Subaru
is proud to have partnered with the
Mohawk Hudson Humane Society
to help our furry friends. Our programs help the shelter care for homeless dogs and cats, help keep families together during difficult times and help find forever homes for homeless pets. It continues to be our pleasure to assist MHHS with their endless and loving work. 
You help makes our efforts a great success. Our special programs include:
"Empties for Animals" - donated bottles and cans
"Furry Friends Pet Food Pantry" - dry pet food for families
Adoption Clinics - now by appointment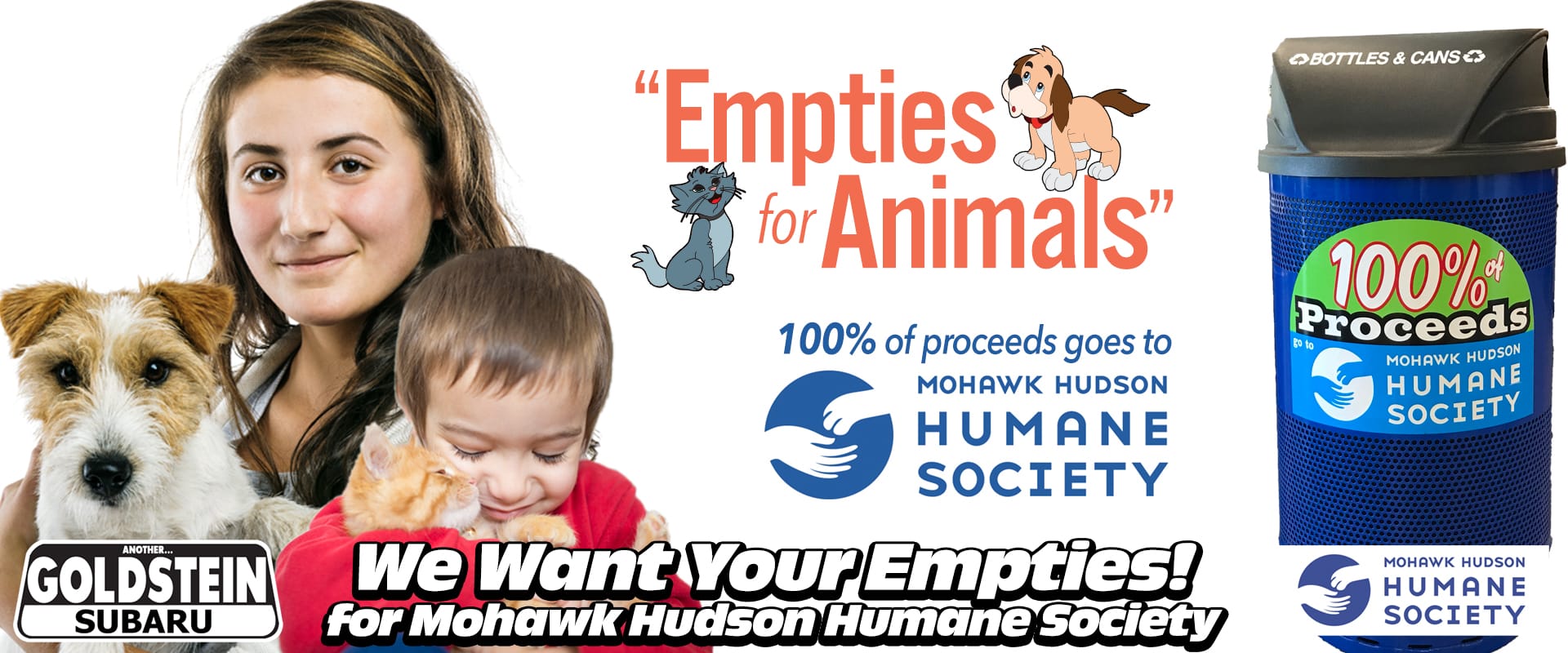 Donate Your Empty Bottles and Cans
For years, Goldstein Subaru has been collecting empty bottles and cans, donated by our customers for the Mohawk Hudson Humane Society. We have collected piles and piles of empties, which in turn adds up to piles and piles of money - which is desperately needed by MHHS to continue their good work day after day.
Each bottle or can is worth more than the standard nickel, as MHHS is able to turn each empty into additional pennies that all add up. Good thing too, as taking care of abandoned, homeless and sometimes sick animals costs a lot of money. Since 1887, the shelter has cared for these animals and provided important services to pet owners, with the assistance of donations and the important work of their volunteers.
Sadly, the work of the Mohawk Hudson Humane Society never ends, as pets are rescued or abandoned daily. Sometimes a family must give up their precious pet because they can no longer afford to properly care for it. We're glad to do our part to help them continue their important work in the Capital Region.
Please bring your bags of empty bottles and cans to our store, our address is listed below.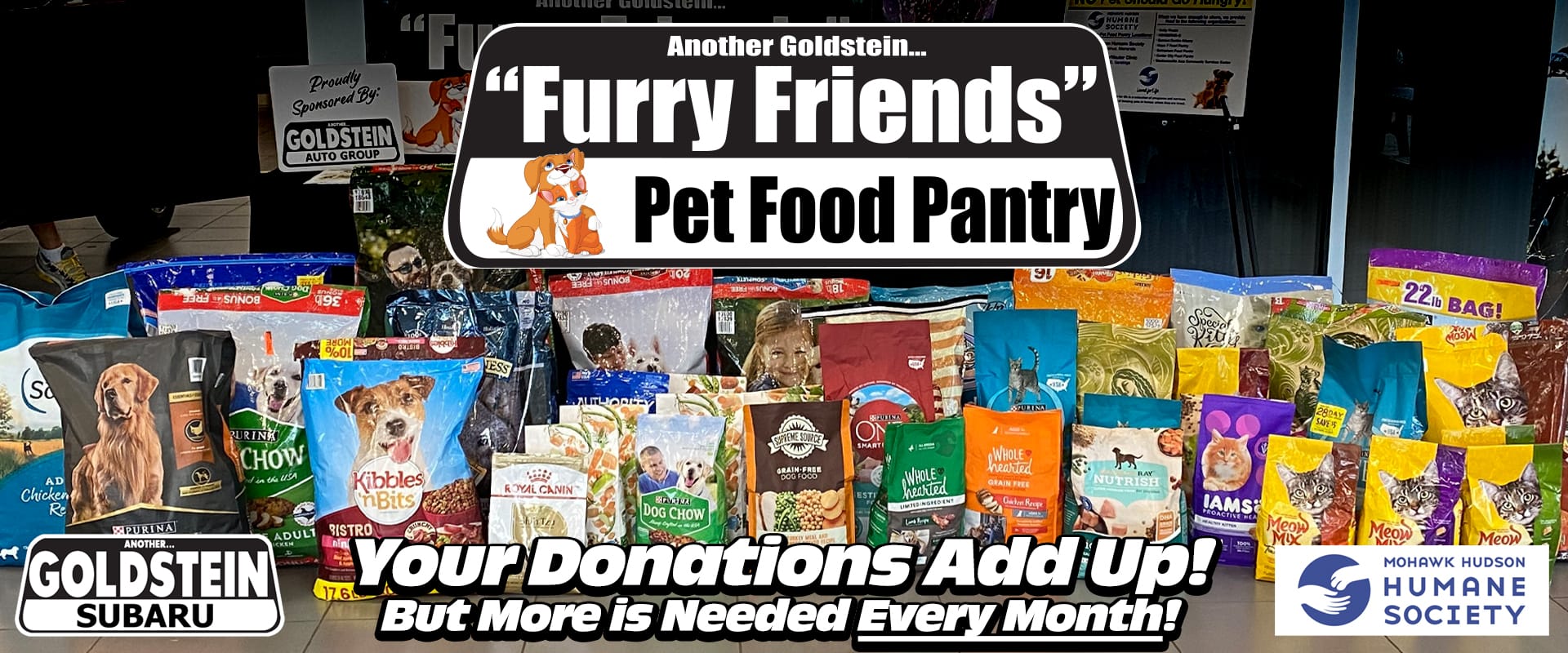 Donate Dog Food and Cat Food!
We want to help keep forever families together. We are collecting dry pet food at Goldstein Subaru for the "Furry Friends Pet Food Pantry" with Mohawk Hudson Humane Society.
These donations may help families struggling during these difficult times. Families who need pet food but are short on funds can receive a bag to keep their furry friend happily fed. The dollars saved on pet food may make a big difference and help keep a furry friend with their family who might otherwise need to give up their pet.
This is not an income-qualified program. MHHS asks that people be mindful of other families in need as well, and to ask for food for owned animals only. This program can be found at both the Menands and Saratoga locations
Our photo may show a large donation... but it will go fast and this is an ongoing effort. Please consider stopping by Goldstein Subaru with a bag of dry cat or dog food. Thank you!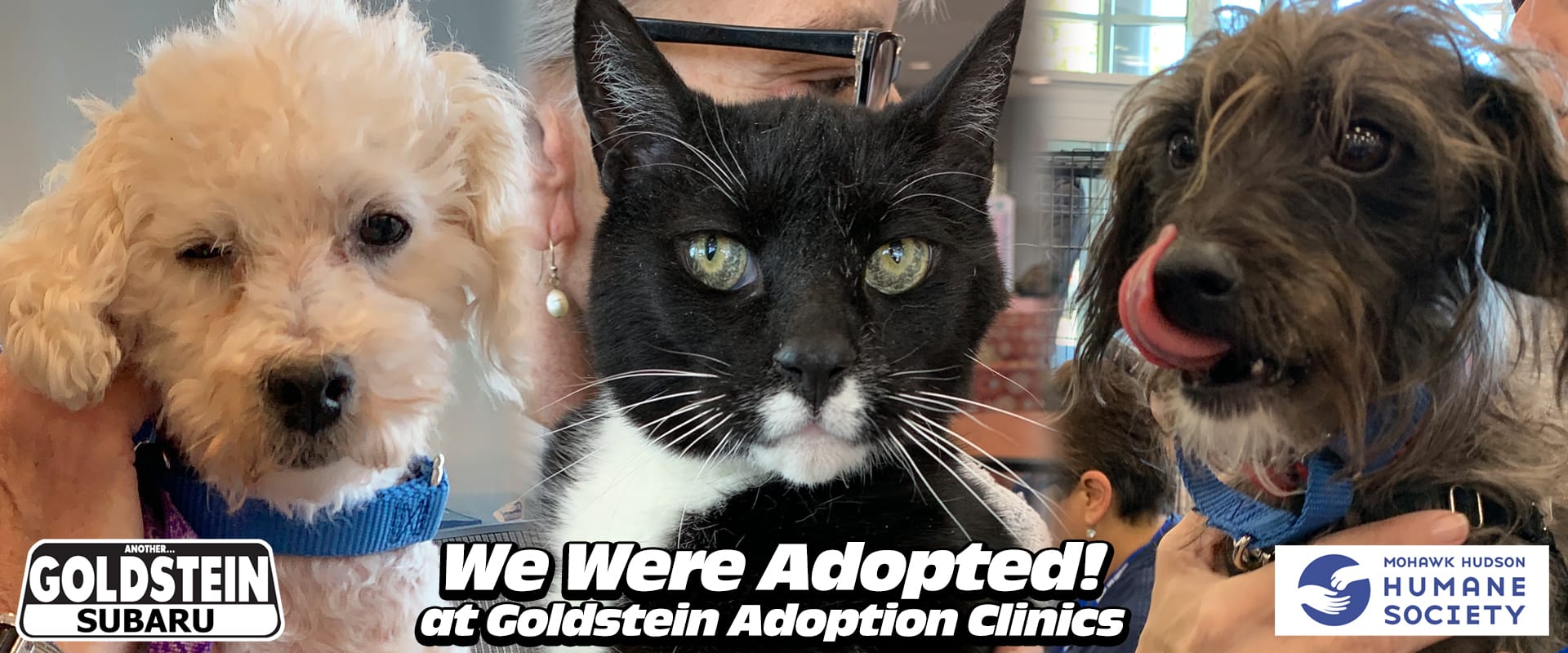 Pet Adoption Clinics
Goldstein Subaru has enjoyed hosting special adoption clinics at our location. It's been fun seeing so many new families come together in our store. It was an event we always looked forward to.
However, during the pandemic, these special events have been on hold. We look forward to the days when we can again bring people and furry friends together in our showroom. In the meantime, we're working wonders with other ways to make new families!
Adopt a Pet Special Events! Once a month, Mohawk Hudson Humane Society and the Goldstein Auto Group have special Pet Adoption Events, with scheduled adoption appointments. Watch our Facebook page for announced events!
Available Pets Online!
The Mohawk Hudson Humane Society has all their available cats, dogs and other
animals posted on their website now
. Just pick the furry friend that catches your eye and make an appointment with the shelter!
COVID Precautions
. You'll understand that during these times, special precautions are necessary to protect the staff and families from the spread of COVID-19. We ask that you check
this page on MHHS website
for current information and please follow their rules. Thank you.
Please Help! Share Your Love!
Animals of all ages, from young pups and kittens, to mature dogs and cats, and animals who haven't experienced true love yet, are all waiting to find their new families and forever homes at the Mohawk Hudson Humane Society in Menands.
Goldstein Subaru Donation Location via Google Maps
Donations of bottles, cans and dry pet food is accepted at our store during normal business hours. Thank you!
The shelter needs the following items:
Upright and hand-held vacuum cleaners

Canned/wet cat and dog food

 Paper towels

 Redeemable bottles and cans

Kitten milk replacement (KMR)

Cat litter

Rabbit water bottles

Newspapers

Postage stamps

Copy paper

Peanut butter

Fresh Step PawPoints

Flea and tick preventative (Frontline, Advantage, Advantix)

Puppy training pads

Dog toys

Plastic cat toys (no catnip, please)

Rawhides

Swiffer sheets

Toilet paper

Bleach

Hand sanitizer

Cardboard shoeboxes

Kongs (large or extra-large)

Kuranda dog beds

Cat beds

Towels

Blankets - smaller/thinner (such as receiving blankets)

Liquid hand soap

Kitchen scales

Pooper scoopers for dogs (long-handled metal)

Large spray bottles

Small animal bedding (shavings, straw or paper - no cedar)

Weed whackers and gardening equipment

Portable nebulizers

-10'x10' or larger canopies